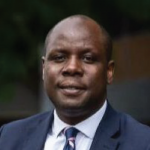 Professor Edward Kunonga is a passionate public health consultant currently working across acute and mental health trusts in the North East of England. He is a former joint director of public health and public protection for two local authorities in the South Tees area. In this role he led multi-disciplinary teams and won a number of awards including the prestigious MJ Awards (Municipal Journal) for the 
Best Public health and health improvement initiatives programmes in the UK in June 2019. He has a passion for improving population health and has presented at many international, national, regional and local forums.
He worked together Dr Chireka, in championing the plight of BAME staff in the UK during the COVID-19 pandemic and facilitating weekly zoom community meetings to provide expertise, facilitate discussion, bring in international experts to the communities and ultimately to provide community support throughout the pandemic. Some of this work is summarised in the publication in the Journal of Migration and Health called, At the deep end: COVID-19 experiences of Zimbabwean health and care workers in the United Kingdom. This is available on this website: Here.
He is an Honorary Professor at Teesside University where he is involved in teaching undergraduate, masters and doctorate level students as well as research collaborations. He is a certified lifestyle medicine specialist and also holds higher specialist training in public health and epidemiology