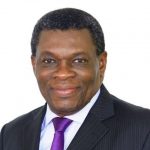 Professor Rotimi Ayodele Kayode JAIYESIMI
Professor Rotimi Jaiyesimi, a 1978 graduate of the University of Ibadan was appointed Consultant in Obstetrics and Gynaecology in the UK in 1994. He is currently the Group Associate Medical Director for Patient Safety at Mid and South Essex University Hospital NHS Foundation Trust and Visiting Professor at the Faculty of Law, University of Ibadan.
At the forefront of clinical governance, he is a UK National Health Service Patient Safety Specialist and has vast experience in medical regulation and medical negligence. He is a Senior Fellow of the Faculty of Medical Leadership and Management and a Fellow of the Institute of Information Management..

A Fellow of the West African College of Surgeons and Fellow, Royal College of Obstetricians and Gynaecologists, he also holds a Masters degree in Business Administration from the Newcastle Business School and a Masters degree in Medical Law, from Northumbria University, Newcastle
Professor Jaiyesimi is a transformation agent with a vast wealth of experience in clinical care, health policy and global health development. He co-authored Nigeria's National policy on Gender and Health and contributed to the Nigeria's National Policy on Diaspora Matters. He is currently the Chairman of the Advisory Board of the Nigerian Commission of the Global Eradication program for Hepatitis. He is an author and has published over 60 scientific articles and presented at several international conferences.
He is a multi-award winner and has been described by his peers in the United Kingdom as an asset to the UK National Health Service (NHS).