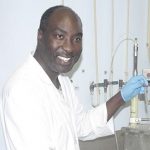 Prof. David Katerere holds a PhD in Pharmaceutical Science from the University of Strathclyde, Scotland and a BPharm (Hons) from the University of Zimbabwe. He is a Professor at Tshwane University of Technology.
David Katerere has a keen understanding of the pharmaceutical industry having worked in managerial and technical positions in retail pharmacy, hospital and biotech industrial pharmacy. In 2012, he was the technical lead for the DTI consulting project on "Feasibility of API Manufacturing in South Africa". This led to him being nominated as the Chair / Co-ordinator of the DTI National Working Group on the Pharmaceutical Industry.
From 2014 – 2016, he was the co-founder and chief scientific officer of Zanalytix Pty Ltd which was located at the Innovation Hub in Pretoria. He is on the expert committees of SA Medicines Control Council (now SAHPRA), an expert advisor / trainer for the South African Medical Research Council (MRC) and has completed several consulting assignments for Department of Trade and Industry, SADC, COMESA as well as United Nations Industrial Development Organization (UNIDO). He is a mentor for SME at the Innovation Hub in Pretoria.