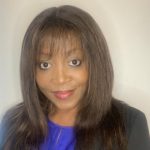 Melary Kapapiro is an accomplished and inspired Senior Manager and Consultant with considerable expertise in Quality, Compliance, Public Health and Business Management. Melary confidently engages at all levels of an organisation, from the Board down to develop fit and proper standards, frameworks and policies that creates outstanding health and social care services.
In rapidly changing health and social care environments, she excels in the use of insights and knowledge to advise and guide decision-makers at all levels, including through CQC audits, provider and regulator interactions. Melary is passionate about creating compliance in operations, and driving continuous health improvements, with the ultimate goal to improve the quality of care and patient/service user experience.
With the ability to lead the development and implementation of strategies, she compliments her experience with a successful track record in improving health outcomes. She has naturally been involved throughout the COVID-19 pandemic in evolving quality, compliance, public health and business processes to protect the population's health.