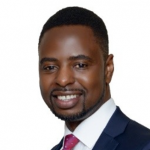 Chris Dzikiti is an experienced programme and project management professional with strong transformational leadership, operational management, strategic and clinical experience which has been built over 20 years in healthcare delivery and commissioning. 
He currently works as Head of Programmes, Transformation and Delivery for NHS England & Improvement. Previously Chris has also worked as a Programme director leading on mental health transformation in London and as Deputy director of programmes leading the programme management office for a directorate.
He studied for a Degree in Mental Health Nursing at City, University of London. He also holds an MSc in Transcultural Psychiatry from Queen Mary University (2005-2007) and an MSc in Healthcare Management from City (2012-2014). He is also qualified in Prince 2, MSP and Lean six Sigma yellow belt. Chris is Chair of Zimbabwe Health Training Support, a UK-based group of healthcare professionals who support their fellow health workers in Zimbabwe. He is also Director of Operations for the National Association of Psychiatric Intensive Care Units leading and supporting the publication of national minimum standards and national guidance / policies.
Between 2017 and 2021, Chris was a healthcare consultant for Health Education England in India, providing technical support for Mental Health Services there. He is also a published author, having contributed a chapter on psychiatric intensive care to the book Psychiatric and Mental Health Nursing – The Craft of Caring. Chris is passionate about supporting BAME colleagues and is involved in coaching and mentoring young people from a BAME background.