Responsible health awareness writing

27th January 2016
Health talks with Dr Chireka
By Dr Brighton Chireka
Responsible health awareness writing .
Health awareness and Dr Chireka's social media Kangaroo court
By Dr Brighton Chireka
My passion is to raise health awareness and there is no doubt about that. I do not want to sound like a "social media prefect "but I need to make a few things clear so that I can continue to write articles and raise health awareness without problems. It is an open secret that I am a medical practitioner who is registered by the General Medical Council (GMC).
There are guidelines which I have to abide by so as not to bring the medical profession into disrepute. I am an advocate for patient engagement and my motto, that you all know is :
My passion is that health professionals and patients must work together as equal partners but this has to be done within guidelines and not out of process or haphazardly.
I have noticed that some of the topics that I write about can make some people get too emotional due to their past experiences with our health system. Discussions here can become heated and inappropriate words are exchanged. Let us remember that what has been said cannot be unsaid and also the mere fact that we are not having face to face discussions must not be an excuse for not exercising self censorship.
It is unethical and unprofessional and at times illegal to reveal names of patients without their permission. This means that this platform will never reveal names of patients without their permission and I encourage you to do the same. Some people may not be up to speed with the social media or internet so they post their private medical history on my wall. I am sorry I will not be able to give medical advice to these people in public. I always suggest to them to either send me a message in my inbox or email me .
Read more about patient confidentiality.
Another area is that of naming and shaming of health professionals. This is not a platform to settle your scores with certain health professionals. On this platform we will focus on raising health awareness. We will not mention names and the discussions are of general nature and does not mean we are always right. I believe in fair trial of people and that everyone is innocent until proved guilty. My advice to anyone with a complaint to make is to first trying to settle the issue with the concerned health professional. Most health professionals welcome complaints. They will investigate and report back to you. If you are not happy with the response you have a right to appeal. Your health professional should be able to tell you the channels to follow. This forum is not a court but is a health awareness platform that discuss health scenarios in general. We have freedom of expression but we need to respect the privacy of others and their right to a hearing and fair trial not "Dr Chireka's social media Kangaroo court" . This kangaroo court is one sided as the health professionals are not given the opportunity to present their side of the story.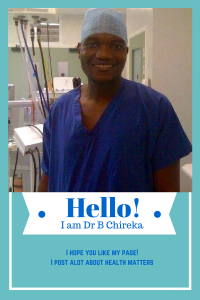 Healthwashing
Another issue is that of "healthwashing ". What is healthwashing? Before I explain what it is may I hasten to say that this platform will not collude in misleading people about certain health issues. I am prepared to be unpopular as long as I know that I am exposing the lies that are taking place in the health industry and also in health blogging. Anyone can start a health blog and there is nothing wrong about that as long as the writer gets their information from reliable sources and not to be "bought" to spread lies to people . We are dealing with human lives so we cannot dice with their lives by promoting dodge products.
Back to the definition, Healthwashing is a practice in which something is made to appear more healthy than it really is, in order to appeal to people who are concerned about health issues. Healthwashing is a serious problem because people are led to believe that things are healthy when in fact they can be harmful.One of the most common forms of healthwashing is misleading labelling. For example, a food or supplement label may outright lie about its contents, or companies may pressure government agencies to allow them to use labelling which could potentially mislead consumers. "Natural flavours," for example, pop up on many foods, leaving consumers to imagine what those flavours really are. In other cases, a product may stress claims of healthfulness, even if that particular form of the product is not very healthy.
You may want to read my article on waist trainers.
Healthwashing also involves conscious efforts on the parts of companies and organizations to suppress information about their products which could damage their reputation.
Snack foods in particular are often healthwashed, because consumers want to be able to snack without feeling guilty. Some snacks are actually specifically marketed as health products, while others simply have claims on their labels which suggest that they provide some sort of nutritional value.
Healthwashing is also used to sell cleaning products and a wide variety of household goods to consumers who are worried about their health and the substances they interact with.
The list goes on and on, so we will be exposing some of these areas of healthwashing.
Thank you for finding time to read my articles. You have busy lives and you have millions of news items coming your way weekly, so to find time for my articles humbles me a lot. I can only say thank you and please continue sharing the articles.
This article was compiled by Dr. Brighton Chireka who is a GP and a Health Commissioner in South Kent Coast in the United Kingdom. You can contact him at: info@docbeecee.co.uk and can read more of his work on his blog at DR CHIREKA'S BLOG
Disclaimer: This article is for information only and should not be used for the diagnosis or treatment of medical conditions. Dr Chireka has used all reasonable care in compiling the information but make no warranty as to its accuracy. Consult a doctor or other health care professional for diagnosis and treatment of medical conditions. Views expressed here are personal.
Comments
comments
Keep Updated Via Email
Join my VIP List and be the first to know when I publish a new article.