Keep It Simple Summary -KISS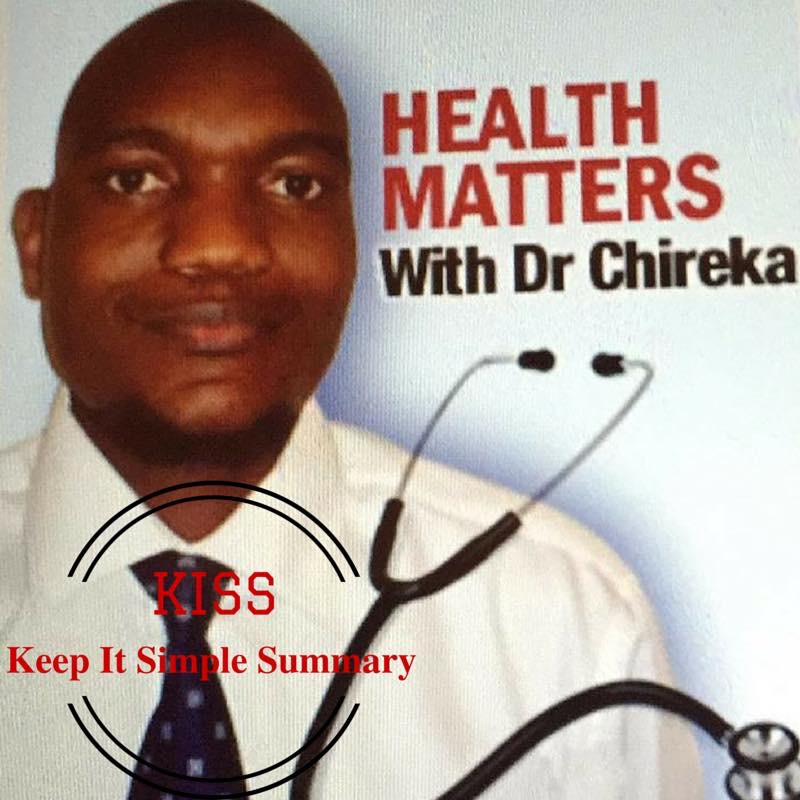 Saturday 23rd July, KISS ( Keep It Simple Summary)
By Dr Brighton Chireka
For those that did not have the time to read our articles this week we covered a very important topic about overworking. As promised Every Saturday I will bring you KISS of all the medical articles that I will have covered in that week.
According to many studies , working too much is not good for your body or mind. Most studies conclude that the greater the number of hours worked per year , the greater the likelihood of premature death and poor quality of life . Overwork doubles the risk of heart attack and stroke and significantly ups the risk of depression.
I am seriously concerned at the number of sudden death that are occurring in the Zimbabwean Diaspora Community. Sadly these people are young and heart disease seems to be the cause of these premature deaths.
"A word of caution to Zimbos in the diaspora, do not spend your health gaining wealth. You will sadly spend that wealth trying to regain your health and that may be too late ". ~modified by Dr Brighton Chireka.
We also encouraged you to see your doctor regularly . For those in the UK you may be deregistered if you have not seen your GP in the last five years.
Are you registered with a general practitioner (GP) or a family doctor? When did you last visit your doctor? Do you attend for routine check-up and participate in screening for cancer? When you last saw your GP, did you feel listened to and are you following the instructions as directed? Have you gone for the next appointment? What is it that is stopping you from making full use of your GP? What are you doing about it?

This article was compiled by Dr Brighton Chireka , who is a GP and a blogger based in Kent in the United Kingdom. Feel free to contact him at info@docbeecee.co.uk and you can read more of his work on his blog at DR CHIREKA'S BLOG
Disclaimer: This article is for information only and should not be used for the diagnosis or treatment of medical conditions. Dr Chireka has used all reasonable care in compiling the information but makes no warranty as to its accuracy. Consult a doctor or other healthcare professionals for a diagnosis and treatment of medical conditions. Views expressed here are personal and do not in any way , shape or form represent the views of organisations that Dr Chireka work for or is associated with.
Comments
comments
Keep Updated Via Email
Join my VIP List and be the first to know when I publish a new article.