Health effects of smoking tobacco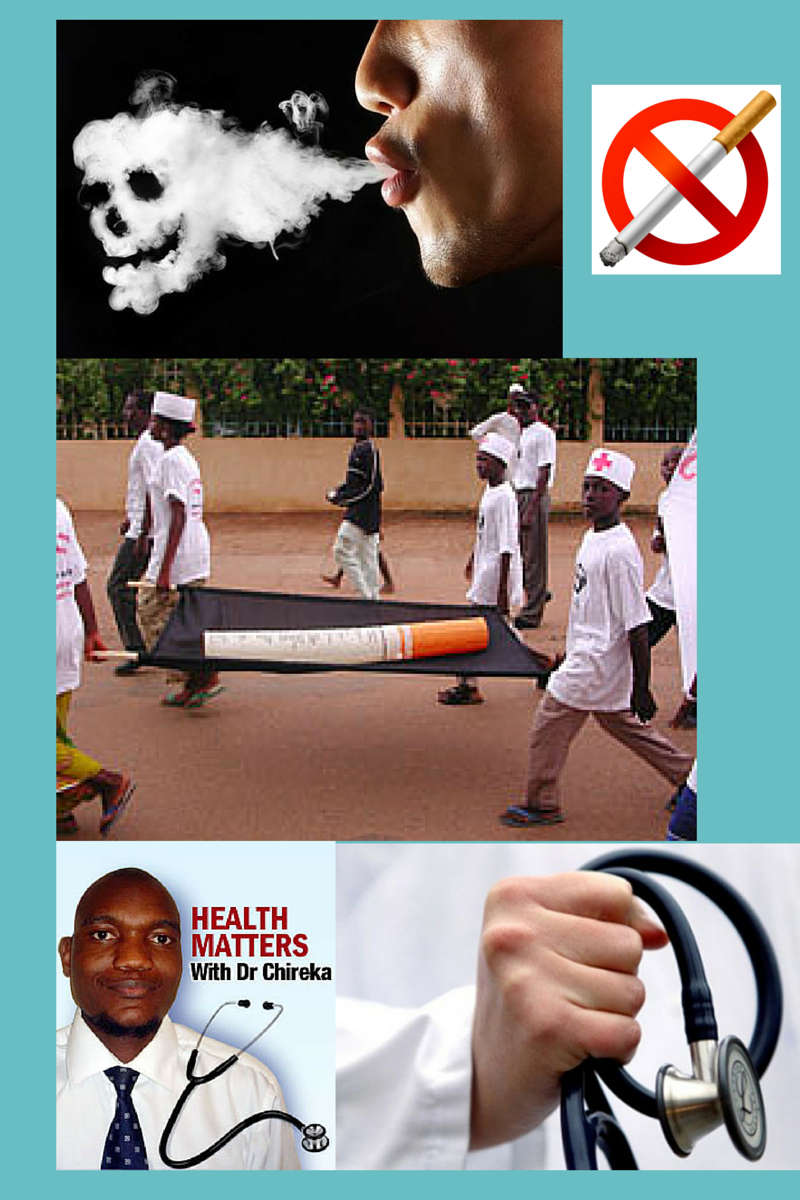 Health effects of smoking
By Dr Brighton Chireka
"Health effects of smoking ,our Zimbabwean students are burning as 20% of  them are using tobacco products. 
Health effects of smoking are not well highlighted and I thought I should address this sensitive topic. Health effects of smoking should be addressed to everyone including our students. We need to catch them young before any damage is done by smoking cigarettes. I was surprised to read that 20% of Zimbabwean students are using tobacco products. What is worrying about these results is that only 22% of adults are estimated to be using the tobacco products according to the 2011-2012 Zimbabwe Demographic and Health Survey. These findings were revealed in the summary report of the Global Youth Tobacco Survey (GYTS) country report for Zimbabwe which was launched on Wednesday 27th January in Harare. The GYTS was conducted in 2014, and involved a representative sample of grade 7 pupils and forms 1—3 students aged 13 –15 years. It was a questionnaire based survey that consisted of 6,427 eligible students drawn from randomly selected classes from 100 sampled schools with a response rate of 70.4%.
It is said in the bible for those that are christians, "my people perish for lack of knowledge. For they have ignored knowledge" . I would like to share the knowledge with everyone and hopefully it will make our students pause and reflect on their use of tobacco products. We need to realise that smoking will have health and non health impacts on the smoker and others who do not smoke. Asking the smokers to stop is not easy as smokers do not appreciate the health effects of smoking. The fight is sadly made difficult by tobacco companies. These companies are still sending out misleading data that distort the true things about health effects of smoking.
Tobacco use is the leading preventable cause of death in the world and it kills half of all lifetime users and half of those die in middle age (35-69). Tobacco is a risk factor for six of the eight leading causes of death in the world ( Ischaemic heart disease, Cerebrovascular disease, Chronic obstructive pulmonary disease, LUNG CANCER, Lower respiratory tract infection, Tuberculosis). Tobacco kills nearly six million people each year. More than five million of those deaths are the result of direct tobacco use while more than 600 000 are the result of non-smokers being exposed to second-hand smoke. Approximately one person dies every six seconds due to tobacco, accounting for one in 10 adult deaths. Unless urgent action is taken, the annual death toll could rise to more than eight million by 2030. Approximately 80% of the deaths would occur in low- and middle-income countries like Zimbabwe.
Tobacco products are made of extremely toxic materials. Tobacco smoke contains more than 7000 chemicals. At least 250 of these chemicals are known to be harmful and at least 69 are known to cause cancer. All tobacco products are harmful. Tobacco smoking can damage every part of the body, causing many actual medical conditions such as shortness of breath, exacerbation of asthma and respiratory infections as well as many chronic diseases including heart disease, strokes, cancer and chronic respiratory diseases.
Smoking is responsible for one in every five deaths in adults aged over 35 in England, and half of all long-term smokers will die prematurely due to a smoking-related disease.
Health effects of smoking among young people
Smoking tobacco leads to nicotine addiction and associated risk of other drug use. Sadly long term health effects of smoking in youth are reinforced by the fact that most young people who smoke regularly continue to smoke throughout adulthood. Cigarette smokers have a lower level of lung function than those persons who have never smoked. Smoking reduces the rate of lung growth. In adults, cigarette smoking causes heart disease and stroke. Studies have shown that early signs of these diseases can be found in adolescents who smoke.

Smoking hurts young people's physical fitness in terms of both performance and endurance—even among young people trained in competitive running. On average, someone who smokes a pack or more of cigarettes each day lives 7 years less than someone who never smoked. The resting heart rates of young adult smokers are two to three beats per minute faster than nonsmokers.
Smoking at an early age increases the risk of lung cancer. For most smoking-related cancers, the risk rises as the individual continues to smoke. Teenage smokers suffer from shortness of breath almost three times as often as teens who don't smoke, and produce phlegm more than twice as often as teens who don't smoke.
Teenage smokers are more likely to have seen a doctor or other health professionals for an emotional or psychological complaint. Teens who smoke are three times more likely than nonsmokers to use alcohol, eight times more likely to use marijuana, and 22 times more likely to use cocaine. Smoking is associated with a host of other risky behaviors, such as fighting and engaging in unprotected sex. This can lead to the rise of sexual transmitted infections among students.
Health effects of secondhand smoking
Does anyone smoke around you ?
There is no safe level of exposure, it is important that you avoid exposure to second hand smoking (SHS), which may dramatically reduce your respiratory symptoms."
Smoking puts the smoker's family at risk. Secondhand smoke exposure increases the risks of having diseases in children such as sudden infant death syndrome, acute respiratory illnesses, middle ear disease and chronic respiratory symptom. In adults it increases the risk of coronary heart disease, nasal irritation, lung cancer and report ductile effects in women (low birth weight).
So what can you do if you smoke ?
Let's first look at the benefits of stopping smoking and remember that it never too late.
There are immediate and long term health benefits of quitting for all smokers. When one stops smoking , the heart rate and blood pressure drop down. The carbon monoxide level in the blood drops to normal. The circulation improves and the lung function increases. Coughing and shortness of breath decreases and the risk of coronary heart disease is about half that of a smoker.
5 years after stopping smoking the stroke risk is reduced to that of a non-smoker. 10 years after quitting smoking the risk of lung cancer falls to about half that of a smoker and the risk of cancer of the mouth, throat, esophagus, bladder, cervix, and pancreas decreases. 15 years after smoking cessation the risk of coronary heart disease is that of a non-smoker's.
It's never too late to stop smoking but it's best to stop early. If one stops at the age of 30 then they will gain almost 10 years of life expectancy as compared to those that continue to smoke. If stops at 40 they will gain 9 years of life expectancy and stopping at 50 years of age they will gain 6 years. If stops by age 60 they will gain 3 years .
After the onset of a life threatening disease, people who quit smoking after having a heart attack reduce their chances of having another heart attack by 50 per cent.
Quitting smoking decreases the excess risk of many diseases related to second-hand smoke in children, such as respiratory diseases (e.g., asthma) and ear infections.
Quitting smoking reduces the chances of impotence, having difficulty getting pregnant, having premature births, babies with low birth weights, and miscarriage.
Thank you for reading this article and as your health awareness advocate, I need you to know that quitting smoking is the most important thing you can do to protect your health now and in the future. We are here to help you. Let's meet in the next article entitled stopping smoking.
This article was compiled by Dr. Brighton Chireka who is a GP and a Health Commissioner in South Kent Coast in the United Kingdom. You can contact him at: info@docbeecee.co.uk  and can read more of his work on his blog at DR CHIREKA'S BLOG
Disclaimer: This article is for information only and should not be used for the diagnosis or treatment of medical conditions. Dr Chireka has used all reasonable care in compiling the information but make no warranty as to its accuracy. Consult a doctor or other health care professional for diagnosis and treatment of medical conditions. Views expressed here are personal and do not in any way , shape or form represent the views of organisations that Dr Chireka work for or is associated with.
Comments
comments
Keep Updated Via Email
Join my VIP List and be the first to know when I publish a new article.