Breast Cancer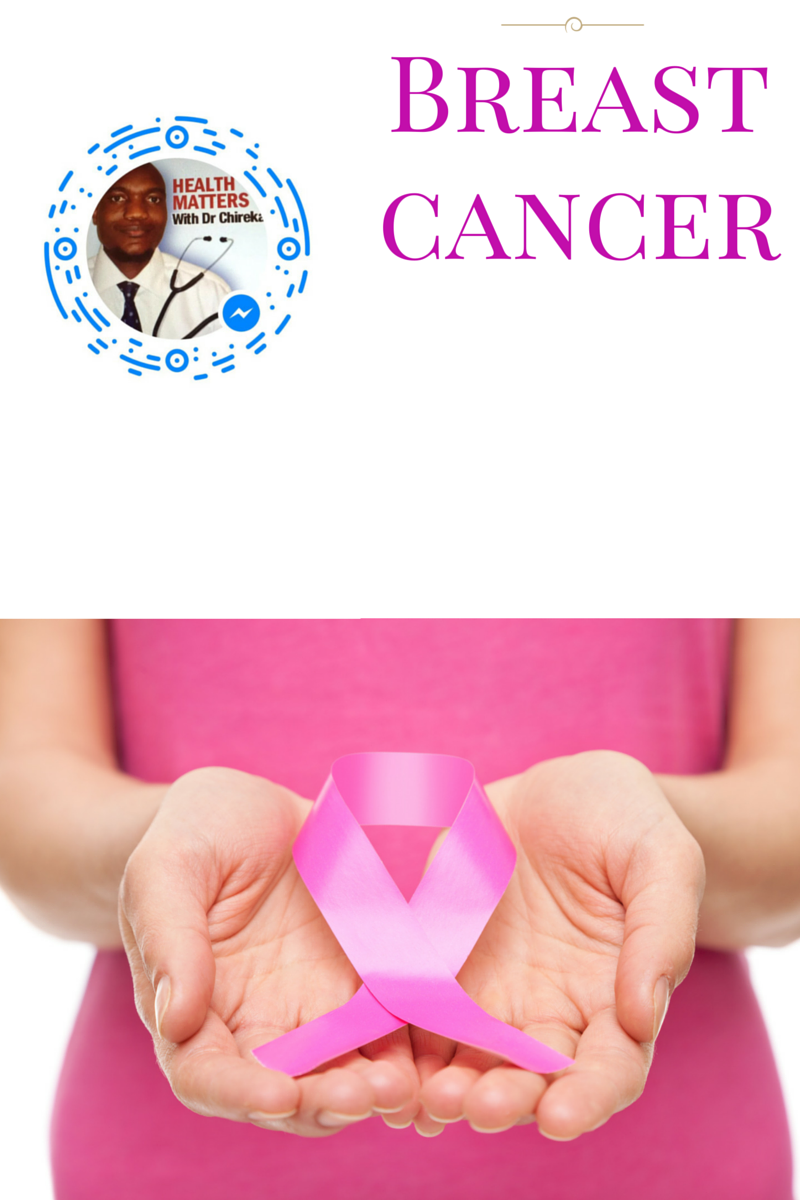 Raising awareness about breast cancer 
By Dr Brighton Chireka 
BREAST cancer is not a death sentence and you may hear stories that you think are not real. I would like to make it more real and convince someone that there is light at the end of the tunnel after being diagnosed with breast cancer. At my work I see at least one person a week with breast cancer either as a new diagnosis or as a follow up. I have had someone very close to me diagnosed with breast cancer and undergoing treatment successfully. Breast cancer is a very important topic and needs a whole book to talk about but we do not have enough time on this column for that, so a summary should call us to action and make us go and see a health practitioner as soon as possible.
This article is mainly focused on the female breast because it is commonly affected by cancer than the male breast. Breast cancer is the fifth leading cause of cancer deaths worldwide, according to the World Health Organisation. It is one of the more common types of cancer, affecting one in eight women in America, and in Zimbabwe in 2007 the two commonest cancers in black women were cervical cancer and breast cancer. It is the most common cancer in the UK. About 48,000 women get breast cancer in Britain each year. Most (8 out of 10) are over 50, but younger women, and in rare cases, men, can also get breast cancer. No amount of fame or money can guard against the development of breast cancer.
Thokozani Khupe
There are many prominent women who have suffered and overcome the disease, and are active in promoting cancer research and education. The list includes the singer Anastasia who faced a second diagnosis of breast cancer a decade after beating the disease the first time. She said that early detection had saved her life twice. We have our own former Deputy Prime Minister and MDC-T Bulawayo MP Thokozani Khupe who was diagnosed with breast cancer and became the first Zimbabwean high ranking official to go public about her health condition. She is now advocating for the introduction of a Cancer Levy.
Celebrities and breast cancer
The Australian singer, Kylie Minogue was diagnosed with breast cancer in 2005, treating it with surgery and chemotherapy. Kylie is back in the music industry and urges others to take responsibility for their own health. In 1987, while Ronald Reagan was still in the White House, the First Lady, Nancy Reagan was diagnosed with breast cancer. She underwent a single mastectomy (removal of one breast) and made a full recovery. First Lady Reagan's experience led to a wealth of media attention, which sparked an increase in the percentage of women having screening mammograms. The actress Angelina Jolie revealed that she had undergone a preventive double mastectomy (having both breasts removed by surgery) because of her elevated risk of breast cancer.
What is breast cancer ?
Breast cancer starts when cells in the breast begin to grow in an uncontrolled way and build up to form a lump (also known as a tumour). As the cancer grows, cells can spread to other parts of the body and this can be life-threatening. Survival from the disease has been improving over time, and now about 3 out of 4 women diagnosed with breast cancer are alive 10 years later.
Causes of breast cancer
The causes of breast cancer are not fully understood. This means it is difficult to say why one woman may develop breast cancer and another may not. One's risk of getting breast cancer goes up as she gets older. About 4 out of 5 breast cancers are found in women over 50 years old. If you have close relatives who have had breast cancer or ovarian cancer, you may have a higher risk of developing breast cancer. Your chances of getting breast cancer are also increased if you are overweight or obese. Other risk factors are being tall, drinking alcohol, radiotherapy and taking hormone replacement treatment.
Early detection is vital in the fight against breast cancer, so it is important to know the warning signs, perform regular self-exams, and learn to identify the causes and symptoms of breast cancer. I would like to encourage all women out there to have an Early Detection Plan as we know that early detection provides the greatest possibility for successful treatment. When breast cancer is detected early (localized stage), the 5-year survival rate is 98%. This Early Detection Plan includes performing monthly breast self-exams, regularly visiting your doctor for scheduled clinical breast exams, and following your healthcare provider's recommendations for mammograms, which will depend on your age and health history. A mammogram is an x-ray that allows a qualified specialist to examine the breast tissue for any suspicious areas.
Remember, if breast cancer is detected late the chances of survival are slim because the cancer cells will have travelled to other parts of the body such as the liver, lung and the bones. In the UK all women between 50 and 70 years of age should be screened for breast cancer every three years as part of the NHS Breast Screening Programme. In USA the Centers for Disease Control and Prevention (CDC) recommend that women ages 50 to 74 should have a mammogram every two years. Women 40 to 49 should discuss risk factors like family history with their doctors in determining the best time to start mammogram screening. Unfortunately some countries do not have screening programmes and in these countries self-examination is the best way forward.
What can you do ?
I urge all women to exam their breasts at least once every month. I would suggest you seek medical advice on how to exam your breasts but I will summarise it here for you. Adult women of all ages are encouraged to perform breast self-exams at least once a month. Forty percent of diagnosed breast cancers are detected by women who feel a lump, so establishing a regular breast self-exam is very important. You can do this once every month in the shower. Using the pads of your fingers, move around your entire breast in a circular pattern moving from outside to the centre, checking the entire breast and armpit area. As you do this to both breasts look out for any lumps, thickening or hardened knots.
Next, look at your breasts in front of a mirror, first with your arms at your sides and then raise your arms high above the head. Look out for any swelling or dimpling of the skin or changes in the nipple. After doing this you need to rest your palms on your hips and press firmly to flex your chest muscle and again look for any changes in your breasts. If you notice any changes or lumps or you are not sure, you must go and see your doctor. If you find a lump, schedule an appointment with your doctor, but don't panic — 8 out of 10 lumps are not cancerous.
Breast cancer can present without any symptoms until it's too late hence the need for regular self-examination. However if you notice any unexplained changes in the size or shape of the breast or nipple and also how it feels when you touch them including the way they look to you, that should prompt you to go and see your own doctor.
Breast pain
Another symptom that many of you have been asking about is breast pain. Breast pain is any discomfort, tenderness, or pain in the breast or underarm region, and it may occur for a number of reasons. Generally, breast pain is not a sign of breast cancer. One may ask, "Should breast pain cause me to be concerned about breast cancer"? Although many women with pain in one or both breasts may be concerned that it is breast cancer, breast pain is NOT commonly a symptom of cancer. You should see your doctor if you experience breast pain but do not panic as there are several simple causes of the pain and cancer is a rare cause.
Although you cannot prevent cancer, some habits can help reduce your risk such as maintaining a healthy weight, staying physically active, eating fruits and vegetables and not smoking as well as limiting your alcohol consumption.
I hope this will call you to action and seek medical advice if you notice anything unusual about your breasts. Please remember breast cancer is not a death sentence and early detection is vital in the fight against it, so it is important to know the warning signs, perform regular self-exams, and learn to identify the causes and symptoms of breast cancer.
This article was compiled by Dr Brighton Chireka , who is a GP and a blogger based in Kent in the United Kingdom. Feel free to contact him at info@docbeecee.co.uk and you can read more of his work on his blog at DR CHIREKA'S BLOG
Disclaimer: This article is for information only and should not be used for the diagnosis or treatment of medical conditions. Dr Chireka has used all reasonable care in compiling the information but makes no warranty as to its accuracy. Consult a doctor or other healthcare professionals for a diagnosis and treatment of medical conditions. Views expressed here are personal and do not in any way , shape or form represent the views of organisations that Dr Chireka work for or is associated with.
Comments
comments
Keep Updated Via Email
Join my VIP List and be the first to know when I publish a new article.